Latest Probe Technology Shines at Oxford Engineering
November 26 / 2016
Oxford Engineering aims for efficiency and high-accuracy measurements with our new Creaform probing system.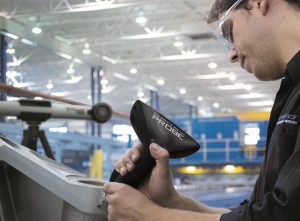 Since the day it formed in 1968, Oxford Engineering Limited has worked to cultivate an expertise in the Medical, Oil and Gas, Semi-conductor and Aerospace industries. The company's success is due to an unwavering customer focus, leading to a 90% repeat customer rate. Our commitment to enhancing our services continues to drive decisions and investments. The latest probe technology adopted by Oxford Engineering is an example of careful planning for the future and for the success of our clients.
Creaform is a cutting edge technology manufacturing company that specializes in portable 3D measurement and analysis equipment. The company's products have a variety of applications, from medical equipment to manufacturing to aerospace. It is the focus of Creaform to significantly augment and boost manufacturing processes for speed and profitability. Creaform is a world leader in 3D optical measurement technologies, with offices located all over the world.
The HandyPROBE™ from Creaform is a portable, arm-free CMM system that uses dual camera technology to make precise measurements in practical situations. The 3D-capable technology increases efficiency on the shop floor and provides an easily manoeuvrable system for restricted environments. This equipment was designed and optimized to operate in "real life" shop floor conditions.
As always, Oxford Engineering strives to lower costs for our clients. This exceptional equipment will be used to support and develop products for our customers while offering great versatility on its applications. The HanyPROBE™ from Creaform is an innovative fit for a company that keeps moving forward.
Visit https://www.oxeng.co.uk/ for more information or call +44 1235 530 074 to learn how Oxford Engineering continues to innovate and cut costs for our clients.